Fein 72293768060 Multimaster Top Kit FMM250Q - New Release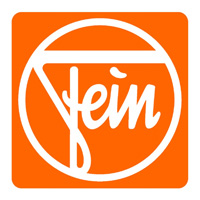 Fein has just released a new model FMM 250 Q Multi Master TOP model Power tool with the improved tooless key change system giving the user the ability to change fein attachments within seconds. Including attachments for all applications of Sawing & sanding fitting into the tighest corners such as window seals.
Features:
The universal system for interior fitting and renovation with unique equipment including extensive sanding
accessories for a huge number of different applications.
Maximum quality and stability thanks to metal gear head, consistent use of ball/needle roller bearings
and a motor designed for continuous use.
Convenient accessory changes without the need for extra tooling with the QuickIN clamping system.
8-star tool mounting with excellent torque transfer.
Electronic speed setting.
Wide range of accessories available for all applications.
Price includes high-quality plastic case and full equipment for most applications.
Integrated interface for attaching additional system accessories.
High-performance 250 watt motor.
Optimum handling thanks to soft grip zone.
Specifications:
Power: 250W
Weight: 1.4kg
Oscillations: 11,000 - 20,000 rpm
Cable with plug: 5m
Sanding pad width: 80 mm
Tool Holder: QuickIN
Includes:
1x FEIN MultiMaster FMM 250 Q - New Release Model
1x sanding pad
5x sanding sheets each grit size 60, 80, 120, 180
1x Sanding plate with holes
5x sanding sheets perforated each grit size 60, 80, 120, 180
1x backing pad Ø 115 mm, perforated
Perforated sanding sheets, 2 each of grit 60, 80, 180
1x Universal E-Cut saw blade (44 mm)
1x E-Cut long-life saw blade (35 mm)
1x E-Cut long-life saw blade (65 mm)
1x M-Cut saw blade (10 mm)
1x M-Cut saw blade (30 mm)
1x HSS segment saw blade
1x carbide segment saw blade
1x carbide rasp (triangular), perforated
1x fixed scraper
1x dust extraction device
1x plastic carrying case
Delivery
For all orders up to 20kg and no longer than 1m to be delivered to regional and interstate areas, we use Australia Post and StarTrack Express with tracking provided sent to you via email.
For all orders above 20kg, we use StarTrack Express and Hunter Express.
All deliveries can be tracked online at all times via the shipping providers online tracking service.
Visit: www.auspost.com.au/track/ for Australia post tracking and enter tracking number given per order.
Visit: www.tntexpress.com.au/interaction/trackntrace.aspx for TNT Express tracking and enter tracking number given per order.
You will be notified as soon as your order is dispatched.
We will notify you by email or telephone in the event that:
We are unable to deliver your order within the allocated time

We are unable to fulfill your order
Delivery Times
If your order contains some items that are not listed as "in stock", we will dispatch the complete order once everything contained in the order has arrived in stock. This will normally take 2-10 working days. Should lead times be more than 10 working days we will contact you via e-mail or telephone.
Next day dispatch is defined as the next working day following your order placed between 8am and 3pm.
All orders received after 5pm Friday or on weekends will be dispatched the following Monday for delivery on Tuesday.
All orders will require a signature upon delivery in most cases unless 'authority to leave' is stated in the comments section of the order to pass this onto our shipping provider. In the event that the customer being absent when delivery is attempted, a card will be left detailing the drivers actions. The card will also contain details on how to arrange to collect from the local parcel company depot.
We do not authorise re-deliveries. Someone must be at the delivery address to sign and receive for the goods and answer the phone call from the courier company to arrange this. If you require a re-delivery, there will be an additional charge requested from the shipping provider.
Our carrier also offers a pallet delivery sevice for bulky orders. Please ensure that you have an appropriate offload facility for the receiving of pallets. There may be a surcharge for bulky orders. If so, we will contact you before we dispatch your order.
We recommend that you inspect the goods prior to signing for delivery. If you discover any damage to the packaging, sign for the goods as "damaged". If you are unable to inspect the goods right away, please ensure you sign for the goods as "unexamined" to allow us to take up any claims with our delivery partners if necessary.
Expected dates and shipping estimates of delivery are approximate. AUDEL shall not be liable for any delays or extra costs in delivery.