Toptul 276 Pcs 10 Drawer Metric/AF Tool Kit TTEK1000R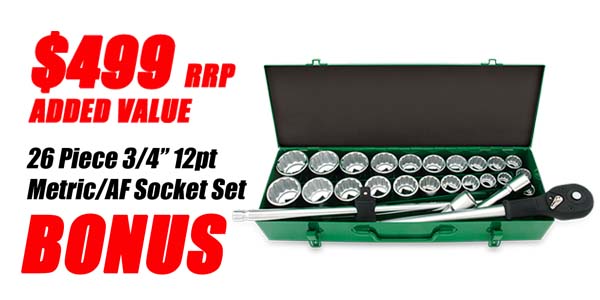 Toptul 276 Pcs 10 Drawer Metric/AF Tool Kit TTEK1000R
Contents:
• 29 PCS Super Torque Combination Spanner Set 15° Metric/AF Sizes
6,7,8,9,10,11,12,13,14,15,16,17,18,19,22,24,27,29,30,32mm- 1/4,5/16,11/32,3/8,7/16,1/2,9/16,5/8,11/16,3/4,13/16,7/8,15/16"
•15 Pcs Pro-Series Reversible Ratchet Spanner Set Metric
8,9,10,11,12,13,14,15,16,17,18,19mm 3 Pcs Socket Adapters.
•54 Pcs 1/4" Metric/AF Socket Set 72 Teeth Reversible Ratchet
4,4.5,5,5.5,6,7,8,9,10,11,12,13,14 Mm Std/Deep, Extensions, Ratchet, Acc. 5/32",3/16",7/32",1/4",9/32",5/16",11/32",3/8",7/16",1/2",9/16" Std/Deep
•34 Pcs 3/8" Metric/AF Socket Set
8,10,12,13,14,16,17,18,19,21,22 Mm Std, Extensions, Ratchet, Acc. 5/16",3/8",7/16",1/2",9/16",5/8",11/16",3/4",25/32",13/16",7/6" Std
•38 Pcs 1/2" Metric/AF Socket Set
8,10,11,12,13,14,15,16,17,18,19,21,22,24,27,29,30,32 Mm Std 3/8",7/16-,1/2",9/16",5/8",11/16",3/4",13/16",7/8",15/16",1",1-1/16",1-1/8",1-1/4" Std Extensions, Ratchet, Acc.
•11 Pcs Measure, Marking And Cutting Tool Set 5m Measuring Tape, Feeler Guage, Ruler, Vernier, Scriber
•24 Pcs 1/2" Bit Socket Set
Hex 4,5,6,7,8,10,12 Mm, Spline M5,M6,M8 ,M10 ,M12 ,M14,M16 Star T20 ,T25 ,T27 ,T30 ,T40,T45 ,T50,T55,T60,T70
•23 Pcs 1/2" Deep Socket Set
8,9,10,11,12,13,14,15,16,17,18,19,20,21,22,23,24,26,27,28,29,30,32 Mm
•3 Pcs Adjustable Wrench And Pliers Set 10" Paw Adjustable Wrench, 10" Curved Locking Jaw Pliers, 10" Box-Joint Water Pump Plier
•4 Pcs Pliers Set Diagonal Cutting Pliers 7", Combination Pliers 7", Long Nose Pliers 8", Bent Nose Pliers 8"
•5 Pcs File Set Flat 8",Triangla 8",Half Round 8",Square 8",Round 8"
•7 Pcs Chisel And Hammer Set Engineers Hammer (300g), Dead Blow Hammer (1 Lb)
•14 Pcs Slotted And Phillips Screwdriver Set Slotted 3.0x75,3.5x100,4.0x100,5.5x150,6.5x150,8.0x175,5.5x25,6.5x25 Phillips PH0x60,PH1x80,PH2X100,PH3x150,PH1x25,PH2x25
•9 Pcs L-Ball Point And Hex Key Set 2x140,2,5x140,3x140,4x140,5x203,6x203,7x203,8x265,10x265
•1 X 7 Drawer Roller Cabinet General Series Red
•1 X 3 Drawer Tool Chest General Series Red
BONUS 26 Piece 3/4" 12pt Metric/AF Socket Set
Delivery
For all orders up to 20kg and no longer than 1m to be delivered to regional and interstate areas, we use Australia Post and StarTrack Express with tracking provided sent to you via email.
For all orders above 20kg, we use StarTrack Express and Hunter Express.
All deliveries can be tracked online at all times via the shipping providers online tracking service.
Visit: www.auspost.com.au/track/ for Australia post tracking and enter tracking number given per order.
Visit: www.tntexpress.com.au/interaction/trackntrace.aspx for TNT Express tracking and enter tracking number given per order.
You will be notified as soon as your order is dispatched.
We will notify you by email or telephone in the event that:
We are unable to deliver your order within the allocated time

We are unable to fulfill your order
Delivery Times
If your order contains some items that are not listed as "in stock", we will dispatch the complete order once everything contained in the order has arrived in stock. This will normally take 2-10 working days. Should lead times be more than 10 working days we will contact you via e-mail or telephone.
Next day dispatch is defined as the next working day following your order placed between 8am and 3pm.
All orders received after 5pm Friday or on weekends will be dispatched the following Monday for delivery on Tuesday.
All orders will require a signature upon delivery in most cases unless 'authority to leave' is stated in the comments section of the order to pass this onto our shipping provider. In the event that the customer being absent when delivery is attempted, a card will be left detailing the drivers actions. The card will also contain details on how to arrange to collect from the local parcel company depot.
We do not authorise re-deliveries. Someone must be at the delivery address to sign and receive for the goods and answer the phone call from the courier company to arrange this. If you require a re-delivery, there will be an additional charge requested from the shipping provider.
Our carrier also offers a pallet delivery sevice for bulky orders. Please ensure that you have an appropriate offload facility for the receiving of pallets. There may be a surcharge for bulky orders. If so, we will contact you before we dispatch your order.
We recommend that you inspect the goods prior to signing for delivery. If you discover any damage to the packaging, sign for the goods as "damaged". If you are unable to inspect the goods right away, please ensure you sign for the goods as "unexamined" to allow us to take up any claims with our delivery partners if necessary.
Expected dates and shipping estimates of delivery are approximate. AUDEL shall not be liable for any delays or extra costs in delivery.